Professional Florists In London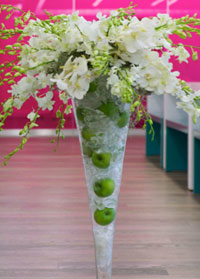 A natural progression running hand-in-hand with our plant service, we are perfectly placed to deliver fresh flower displays to our clients on a weekly basis.
Drawing on a wealth of botanical knowledge, the floristry team have built a credible reputation for imaginative floral designs – bringing flair and feeling to key areas within corporate environments across London.
We work with a wide range of fresh flowers that are beautifully arranged using a variety of specialist techniques. For us, attention to detail is the key to designing stunning floral displays and we strive to consistently provide our customers with expert craftsmanship.
Our team of corporate florists are driven by creativity, inspiration and advanced design techniques, which means that we can guarantee striking floral displays - with inevitable admiration from staff and visitors alike.
Experts In Corporate Floristry
Premier Planters are experts in floristry and supply carefully arranged floral displays for all corporate requirements.
We personally believe that skilfully designed flower arrangements will enliven any vicinity - from meeting rooms to reception areas. Our team are meticulous in every detail - from initial preparation, to the placement of the very last flower and delivery to your offices.
As professional corporate florists, we will visit to discuss your requirements and assess your premises before working on suggested designs for you. We can fully appreciate our customers' desire for something unique and eye-catching - we thus strive to create arrangements which are tailored to both complement and enhance corporate spaces. For more information regarding our floristry services in the London area, contact us today and speak to our expert team.
Call us on 0845 073 8880 to discuss your requirements.